The History of the Ferguson Funeral Home
The Ferguson Funeral Home today is the culmination of many generations that have passed along lifetimes of knowledge, always offering their community the best standards in the undertaking business.
Samuel D. Aultman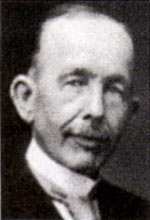 The story begins with Samuel D. Aultman. Samuel was born in 1845 in East Huntingdon Township. His upbringing on the family farm and his education helped him to become a leading citizen. His father Jacob instilled in Samuel a career of public service from his experience as a Township Road Supervisor and Tax Collector.
What influenced Samuel D. Autlman the most was his service in the Civil War. There he learned how to be a field mortuary technician. Once he arrived back in Scottdale, PA, he used this knowledge to open his own funeral parlor at 120 Pittsburgh Street in 1880. Samuel's career was quite successful and he is noted in the Scottdale area for introducing the then new technique of embalming.
James Patrick Owens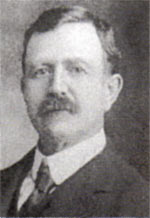 James Patrick Owens was born in 1853 in Bedford County. He moved to Scottdale in 1880 after marrying Eva Glos in 1879. He was appointed postmaster of Scottdale in 1886 and was active in the political scene. As a stockholder in the Scottdale Building & Loan Association, he befriended Samuel Aultman. In 1899, Owens purchased the undertaking business from Aultman. He expanded the business with A.D. Newingham when they rented coaches to area residents in need.
Soon after, Owens met William Ferguson, who was working at the local casket factory. They formed a partnership in 1901 known as the Owens-Ferguson Furniture and Undertaking Company. Before he died in 1938, James Patrick Owens sold the business to his partner William.
William Ferguson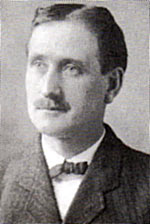 Born in 1869, William Ferguson hailed from Scotland. There he spent time creating artifacts from whittling wood. After immigrating to the United States, William made his living at the Scottdale Planing Mill, where he honed his cabinetmaking skills. In time, the factory began to make caskets. After seeing local undertakers regularly when they came to purchase the wooden caskets, William became friends with J. Patrick Owens.
The partnership between Owens and Ferguson began in 1901 when they formed the Owens & Ferguson Furniture & Undertaking Company. Ferguson schooled himself in the field of mortuary science by graduating from the Barnes School of Anatomy with a degree in embalming and sanitary science. William even trained his sons George and John so they could take over the business when he retired.
In addition to William's mortuary work, his carving and cabinet making skills made him a legend in the Scottdale area. In fact, many of his works can be seen in the Ferguson Funeral Home Museum. William's stern business sense earned him the name "The Boss." He helped many families with financial hardship through the depression and through two world wars. He continued his work up until his own death in 1951.
George and John Ferguson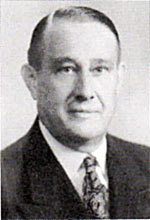 William's two sons, George and John worked along side of him for years learning the mortuary business. George had incredible foresight to suggest, convince, and construct one of the first blue printed funeral homes east of the Mississippi in 1936. Ferguson Funeral Home was now located at 105 Spring Street, Scottdale. While the building was under construction, both George and his father continued funerals and operated an ambulance service.
It was difficult at first for the community to adjust to using the services of a professional funeral home. Most people were accustomed to having funerals in their own homes. As a result, the newly built funeral home was barely used during its first few years.
After inheriting the business from his father, George died tragically one year and ten days later from a stroke. His wife Nellie Ritchie Ferguson operated the business on a widow's license until 1963.
Robert B. Ferguson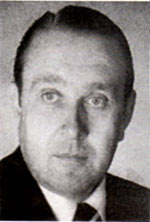 Robert B. Ferguson was next in line to handle the family business. He started when he was just 19 years old. He worked for his mother Nellie after his father's tragic death in 1952. The business was faced with much turmoil. Within a two-year time frame, the Ferguson Funeral Home had lost both the grandfather and the father who had led the business. Robert found continuing the historic business difficult throughout the rest of the 1950s and even into the 1960s, mainly because of his youth and the need to compete against more experienced service providers. Nevertheless, Robert took on the challenge and within a few years he was able to stabilize the business and purchase it from his family.
In addition, Robert took a seat in the public service sector. However, he spent most of his time cultivating the business and later training his own son, Robert B. Ferguson, Jr. The two worked side by side as a great team. In the early 1990s Robert decided to retire and pass the business along to his son, the current owner of Ferguson Funeral Home. Today Robert B. Ferguson still welcomes families to the "House that Service Built."
Robert B. Ferguson, Jr.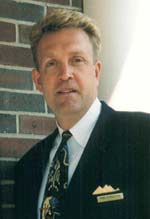 Robert B. Ferguson, Jr. knew from a young age that he wanted to serve his community in the family business and has kept that desire. As young as third grade, Rob envisioned being an undertaker and following in his father's, grandfather's, and great-grandfather's footsteps. After receiving a Business degree from Penn State University, he went on to study mortuary science. Once becoming a licensed mortician, he joined his father in 1978 at Ferguson Funeral Home. He was the fourth generation to carry on the business.
Rob is constantly looking for new marketing strategies that will help his business grow and sustain. When he transitioned into ownership of the Ferguson Funeral Home in 1993, he began a major renovation program and a progressive public relations project that resulted in a great deal of growth. Among the items that Rob invested was the cremation service that is available through Ferguson Cremations (www.FergusonCremations.com). This service is convenient, personal and regionalized. Rob also undertook the construction of a carriage house and the restoration of an 1880 Rockfalls horse-drawn hearse. He uses these wonderful historical recreations to tell the story of Scottdale through the eyes of the oldest business in the community. Rob also created a video documentary that offers personalized detail and attention to the funeral process.