Ferguson Funeral Home Museum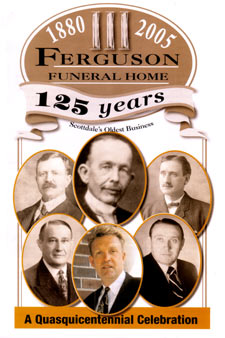 Ferguson Funeral Home Museum, located in Scottdale, PA, is part of a full service funeral home. Our business has served the community for over 127 years through four family generations. Our Wil Ferguson Collection and the restored Rockfalls horse-drawn Hearse are part of our exhibit.
Hours: Monday-Friday 9am-5pm
Evening and
Weekend Tours by Appointment
Ferguson Funeral Home Museum
Robert B. Ferguson, Jr., F.D., Owner
105 Spring Street
Scottdale, PA 15683

Phone: 724-887-5300
Fax: 724-887-5301
Email: info@FergusonFunerals.com
At Ferguson Funeral Home Museum, we are always ready to answer your questions about our collection. You may contact us at the following email address: Info@FergusonFunerals.com or complete the following form with your inquiry and we will contact you as soon as possible.